They Must Be Destroyed On Sight!
2021-09
Episodes
Monday Sep 27, 2021
Monday Sep 27, 2021
This week Lee and Leah have promised to live to see you die, and they will. Well, not really, but there's a lot of that sort of thing going on in Edward L. Cahn's radioactive monster thriller "Creature with the Atom Brain" (1955). The hosts discuss just how effective this low budget sci-fi horror film is. Do they get radiation right? Does it matter? Early squib work; shitty grenades; questionable Italian gangsters; huge lobotomy scars; and just who is Dick Cutting? All of this and more, as well as what the hosts have watched recently, and they read and respond to some recent YouTube comments. We may not look like Buchanan but we are him! "Creature with the Atom Brain" IMDB Featured Music: "Return of the Creature with the Atom Brain" by The Celibate Rifles & "Creature with the Atom Brain" by Roky Erickson.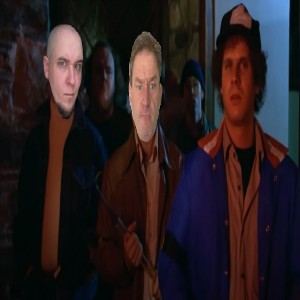 Monday Sep 13, 2021
Monday Sep 13, 2021
Lee is joined this episode by his friend and fellow podcaster Vaughn Kuhlmeier to chat about an underseen Canadian exploitation film, "Siege" (1983), directed by Paul Donovan. Set in, and shot on location in Halifax, Nova Scotia (Lee's home province), some Canadian history surrounding the premise for the film, and some silly East Coast-isms are pointed out by Lee. Police brutality and corruption come up as they talk about the differences between American and Canadian police, and the obvious influences of John Carpenter's "Assault on Precinct 13" on this film. Vaughn also covers what he's been watching recently. So sit back, fortify your home from Canadian fascists, crack open a bottle of smooth Hermit's wine, and listen-in. "Siege" IMDB  Check out Vaughn's excellent podcast Motion Picture Massacre, and follow Vaughn on Twitter. Featured Music: Opening and Closing Themes by Drew King & Peter Jermyn.